---
About the industry
Marine Facilities covers two key areas – Marina Operations and Boatyards.
Marinas are locations with moorings, supplies, and facilities for yachts and boats. These facilities may include refueling stations, washing and repair facilities, haul out services, and slipways (boat ramps). Some marinas also include on shore services such as clubhouses, showers, marine retailers and more. Those working in marina facilities often have a lot of interaction with customers and visiting boaties.
Boatyards are often referred to as places where boats are built, maintained or repaired. Boatyards are usually larger and more industrial than marinas. Typical boatyard work includes, lifting and storing vessels, using equipment such as forklifts, travel lifts and dry docks, and pressure washing vessels.
---
Careers in the industry
A dockmaster usually oversees the management of berthing, mooring, storage and servicing of boats withina marina. The dockmaster is the first line of customer service for incoming boats. The dockmaster is responsible for the daily operations of the marina ensuring that all docks are well-maintained and safe. The dockmaster may also supervise the dry-docking of boats for winter storage. A senior dockmaster also provides training and supervision of junior dock crew and marina maintenance staff.
Haul Out operators and assistants are responsible for operating boatyard equipment such as travel lifts and fork lifts. They are responsible for safely manoeuvring boats in and out of the water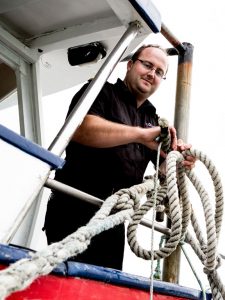 ---
National Certificate in Marine Facilities (Marina Operations, Boatyard Operations)(Level 4)
120 Credits
This qualification is for people who are currently employed in a marina or boatyard environment or for those who wish to work in a marina or boatyard environment. Graduates of this qualification will have the skills and knowledge to work unsupervised in marina operations or in boatyard operations, depending on which strand is completed.
---
Not right for you? Check out some other industries:

Marine Industry
The NZ marine industry needs capable apprentices in a wide range of trades to support expansion in industries including boatbuilding, painting, rigging, engineering and more. You could be the next apprentice working on one of the world's best built boats.

Composites Industry
Apprentices are essential to help drive cutting-edge utilisation for composite materials in a variety of industries including aerospace, automotive, marine, energy, sports and recreation. Find a career in manufacturing ground breaking technologies.