About the industry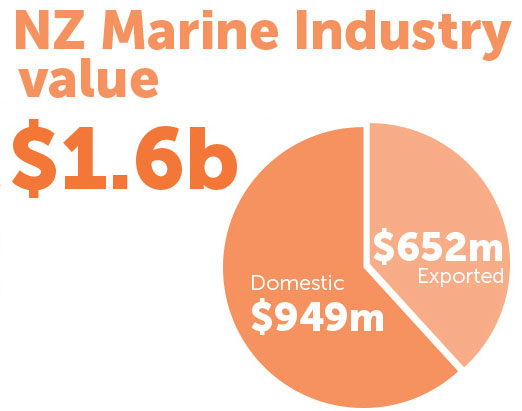 The New Zealand marine industry is New Zealands largest non-primary manufacturing based industry. With an estimated value of $1.6 Billion, the New Zealand public are great supporters with $949 Million of turnover in New Zealand alone.
The New Zealand Marine Industry is highly regarded worldwide for its high quality boats including sailing and motor super yachts, trailer boats and launches as well as a supplier of marine related products and services.
The New Zealand Marine Industry needs skilled apprentices to support growth and to drive innovation in the industry, involving designing, manufacturing, building and selling a range of vessels and marine equipment.
---
Careers in the industry
Boat builders construct, fit-out and repair marine vessels – from small pleasure and recreation craft e.g. jet skis through to larger commercial and naval vessels. Boat builders work on all aspects of building new marine vessels – from drafting the initial design; building the frame, hull, deck and cabins, installing engines and furnishings, and painting and finishing the completed vessel. They may also carry out repairs. These workers are often responsible for preparing slipway and building cradles to support vessels during construction, transportation, repair and launching. They may also supervise launching and slipping procedures, and conduct tests to ensure that any launched vessels are operating properly.
Marine cabinet use very refined skills in wood work and joinery to design and manufacture bespoke furniture and fittings for marine vessels. This may involve designing and constructing anything from tables and chairs to beds and cabinets. Those wanting to work in marine cabinet making should have a great eye for detail. Skills learnt in marine cabinet making are highly transferable to other industries.
Filling and Fairing is the preparation of a marine vessel for painting. Those wanting to work in Filling and Fairing should have a good attention to detail, have good communication skills. Filling/Fairing Technicians should have knowledge in filling, fairing and preparing substrates.
Interior/Exterior Marine Painters are responsible for ensuring flawless coatings on a wide range of marine vessels. Anyone wanting to work in marine coatings should have a good eye for details. In our Marine Coatings (Level 4 ) qualification apprentices gain knowledge and training in preparing interior/exterior substrates, creating controlled environments for painting and identifying and remedying defects on surfaces.
Marine Riggers are responsible for the fit out of a boat. Graduates of the Trailer Boat Rigging qualification have the skills and knowledge to fit out trail powerboats with accessories such as fish finders, sound systems, extra rod holders and more.
Those wanting to work in Chandlery (also known as marine retail) use an in depth knowledge of the marine industry to help customers buy epquipment for their vessel. Those wanting to work in chandlery should have good customer service skills.
Marine engineering covers two key areas, Marine Systems Engineering and Electrical and Electronics. Marine Systems Engineers operate, maintain, service and repair engines. Systems engineers may be responsible for diagnosing engine and machinery problems, and carrying out the maintenance and repairs of engines and machinery. Electrical and Electronic engineers are responsible for the electronic systems on board marine vessels, such as the power systems, sound systems and navigation systems.
Yacht riggers are typically responsible for unstepping and stepping masts on new boats, making new standing rigging from wire and rod, making new running rigging, splicing rope, and inspecting masts for damage. For those wanting to work in rigging a good eye for detail, accuracy and a head for working up high are ideal.
 Spar Makers are responsible for the manufacturing masts, spars and sailbattens. Apprentices in NZMAC ITO's spar making qualification will learn to manufacture, maintain and repair metal/composite spas and assemble them.
Marine designers plan, design and supervise the construction and repair of marine vessels and components. This may include ships, yachts, trailer powerboats and pleasure craft. Those wanting to work in Marine Design should get experience in the marine industry, and have a good eye for detail.
Sail makers make and repair sails for yachts, hang gliders, architectural sails and more. Sail makers are responsible for manufaturing, maintaining and repairing canvas/composite sails. Sail makers also test sails to make sure they meet design and specification requirements.
This information is coming soon
---
Available qualifications in the industry
New Zealand Certificate in Fill and Fair Surfaces (Level 3)
103 Credits
This is an entry level qualification for people intending on working or who are already working in the marine or composite sector, filling and fairing substrates for refits or new builds.
120 Credits
This qualification is for experienced boat builders who have an advanced working knowledge and skills in vessel design, construction, and vessel systems.
150 Credits
This qualification is for experienced marine practitioners who want to specialise in managing complex projects for the new build or refit of marine vessels. Graduates of this qualification will have the skills and knowledge to work in a range of roles including managing marine projects on either new builds, or refits of vessels, marine project consulting, or as a self-employed business owner.
Not right for you? Check out some other industries:

Composites Industry
Apprentices are needed to help drive cutting-edge applications for composite materials in industries such as aerospace, automotive, marine, energy, sports and recreation.

Marine Facilities
NZ's Marine Facilities such as Marinas and Boatyards need talented apprentices to  maintain our international reputation of excellence.