Programmes we offer for schools
School to Work Programme
The School to Work programme is a TEC funded initiative aimed at providing students with a realistic taste of the marine industry, while earning NCEA credits. NZMAC ITO provides extra support for School to Work participants in the form of help finding a suitable employer; coordinating between the school, student and employer, making regular site visits to the student, and more.
Gateway
Gateway programmes are structured workplace learning programmes offered to senior secondary school students.  NZMAC ITO Gateway programmes are focused on giving students a taster of the Marine Industry. Programmes balance practical real-world skills and theoretical work counting towards NCEA credits.
Our programmes provide students with interesting, challenging opportunities to work in a highly regarded industry while getting a head start on industry qualifications.
For more information on gateway Contact Us

How to get an apprenticeship?
Get in touch with our Schools Transition Advisor
To get an apprenticeship in the marine, composites, or marina industries you need to have a job.If you're registering with our school to work programme, we'll help find a suitable employer for your goals and interests. Otherwise;  
See who's hiring
or
see a full list of companies training
. For help with your CV, or for interview tips check out the Career NZ website
Here.
Complete the required modules and receive NCEA credits, during this time School to Work participants will be visited at least quarterly by an appointed NZMAC ITO team member. Some off-job training may be required, this is organised by NZMAC ITO staff.
After completing a Limited Credit Prgoramme (LCP) , you may want to pursue further training. The good news is, there's no double up on training. That means any units completed during you LCP can be used to towards a full apprenticeship!
---
Benefits of Launch it, School to Work Training
Schools are able to offer a wide range of opportunities to their students and are assisted by the NZMAC ITO Transition Advisor to produce an ILP for each student.
By offering a wider range of opportunities and sharing the learning and assessment, retention and engagement of students is higher.
Students are able to complete NCEA Level 2 or Level 3, using marine or composites industry unit standards, and those credits can also be credited towards a nationally recognised level 4 industry qualification.
Students gain valuable work experience and the opportunity to enter full-time employment or an apprenticeship at the end of the school year.
Students gain practical skills in a workplace environment while completing NCEA qualifications.
Through industry participation, students have a greater awareness of opportunities within the marine and composites industries.
The skills you gain are in demand, valued and transferable to other industries.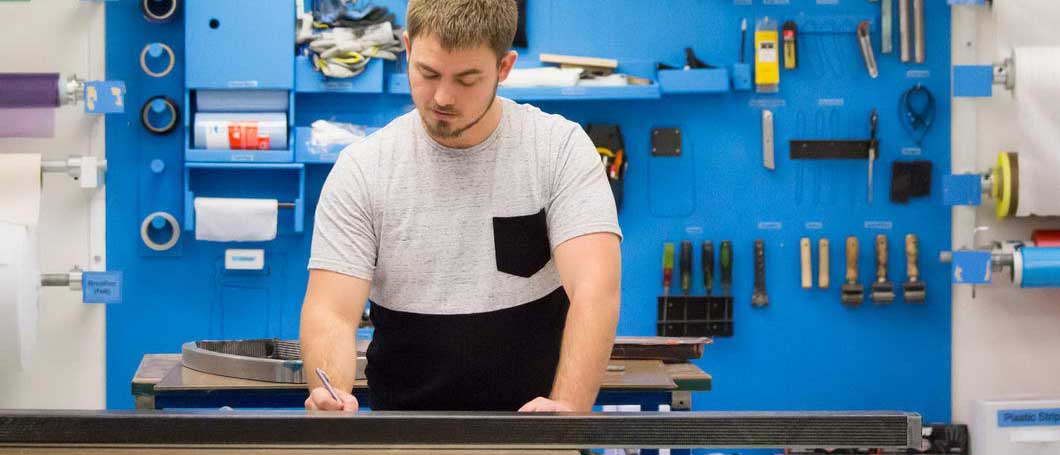 What industry is right for you?

Marine industry
The NZ marine industry needs talented apprentices in a wide variety of trades to support growth in industries including boatbuilding, painting, rigging, engineering and more.

Composites industry
Apprentices are needed to help drive cutting-edge applications for composite materials in industries such as aerospace, automotive, marine, energy, sports and recreation.

Marina industry
NZ's Marina Operations industry needs talented apprentices to  maintain our international reputation of well designed, pristine marinas, superb customer service and boatyards.

How we provide support to Launch it, School to Work participants
Coordinating and managing the Launch it, School to Work programme on behalf of, and in conjunction with the school and employers.
Providing a support service to students and employers with regular site visits.
Providing 

assessment services

to students.
Reporting credits for unit standards to NZQA
Registering training agreements.
All of our field officers have first-hand experience in the industry.
We visit our apprentices every 8-12 weeks, wherever you work in New Zealand.
Acting as advisors, mentors and coordinators for the apprentice.
Negotiating customised on-going training plan goals and objectives for training delivery and assessment.
Coordinating

off-job training solutions.

Evaluating training progress by conducting Unit Standard Assessments.
---
Latest success stories
When 17 year old Hunter Gardyne attended a presentation by the NZMAC ITO Schools Transition Advisor Tracey Eaton at Whangarei Boys late last year,

KEEGAN MACNEIL's dream is to one day work as a chief engineer on a superyacht, travelling the world and being paid to do so. The 19-year-old is on the

Now one year into her apprenticeship as an alloy boat builder at the prestigious McMullen and Wing, Auckland, Brooke Tawhara is breaking through the
---
Ready to get started?
Check out our available qualifications and find one that's right for you.